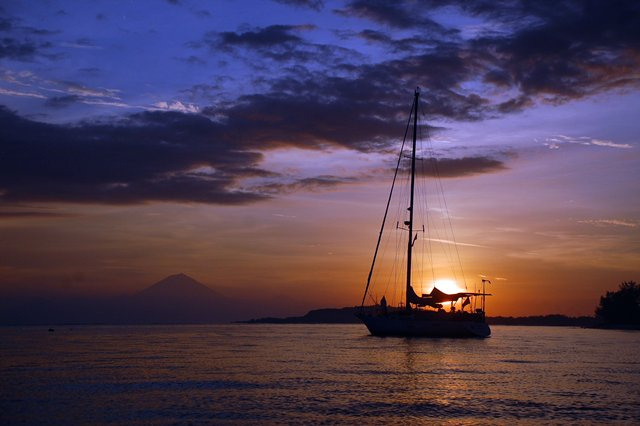 The three "Gili" islands off the NW corner of Lombok are a big change from the
traffic and noise of south Bali: there are no motorized vehicles, only pony
carts and bicycles to get around. We were really ready for the slower pace after
having to sit in hot traffic to get anywhere on Bali… that wasn't really
fun.
A single sandy track rings the Gili Air, which you can bounce around
to the jingle of your pony's bells in about half an hour.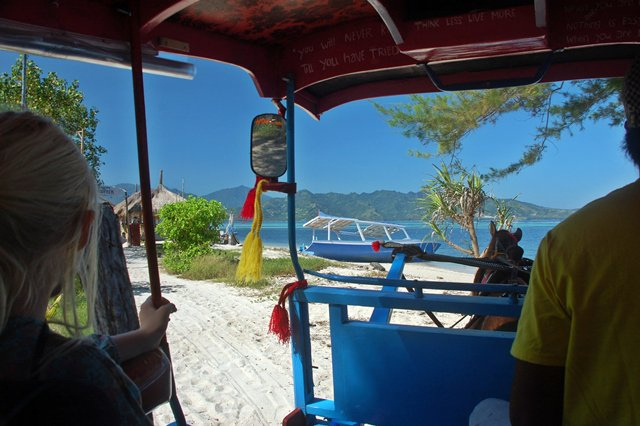 Open air bars and restaurants, with little more than the sandy beach for a
floor, line about half of the circumference; guest houses look out over pretty
blue water to Lombok.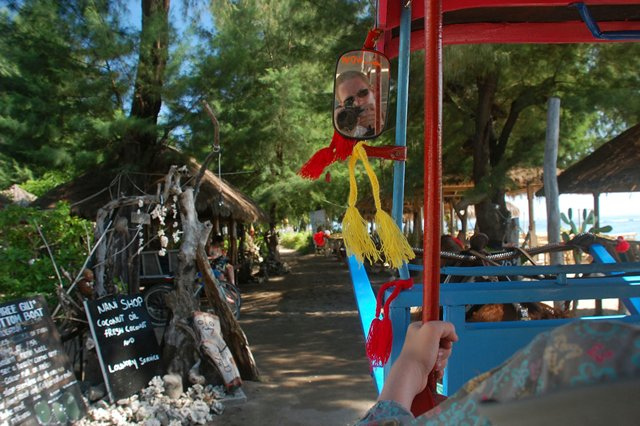 The rest is just pretty, unspoiled beachfront… and some very hard working
local folks. Everything- food, water, building supplies…everything- has to be
brought in by boat from Lombok or Bali.
Of the three "Gilis", Gili Air one is the quietest- which just means there are a
handful of families on vacation, and independent travelers outnumber the
twentysomething backpacking set; the younger crowd seems to congregate at "Gili
T" for the all night full moon parties. We're ready for bed at Cruiser's
Midnight (9pm) so this suits us well. An added bonus, Gili Air has inexpensive
moorings to help us keep the boat gear off the coral, and our friend Brian from
the M/V Furthur to visit with.
We spent a lovely few days and could have
lingered if it weren't for the visa extension schedule pushing us on again.
First, though, there is a big job to do cleaning a crazy layer of barnacles off
the bottom of Totem. One month in the fertile and fetid waters of Serangan gave
it the thickest growth we have ever seen… that's saying quite a lot! Jamie
took the worst off the prop and rudder back in Serangan, but we know we had a
big job waiting.
Thank goodness for Dive Master Brian, who loaned a tank to speed the job along.
Jamie got about 2/3 of the bottom clean on that tank, and spread the rest over a
couple of afternoons. It was BAD! All those little critters don't like being
disturbed, either. I helped Jamie with vinegar/alcohol ear drops when he got out
and watched a couple of little critters CLIMB
OUT HIS EARS. Yes, it's as gross as it sounds, and gives you the serious
heebie jeebies to see much less to feel them yourself.
It was fun
to play tourist for a while. We swam a little, paid for the tourist stuff we
don't usually do (pony cart tour! yoga studio sessions! drinks with umbrellas!
gelato!), enjoyed a couple of non-local style meals, and spent a few evenings
out, listening to live music… good times.
source: sv-totem.blogspot.be