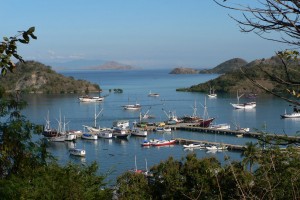 Sail Indonesia is an annual yacht rally that leaves Darwin in July of each year and is followed by a three month program of linked destinations across Indonesia, Sail Indonesia as a web based event and our rally is promoted and managed using the internet and email only, we do not use telephone, post or facsimile. There will be phone numbers in Darwin to contact our support staff during the month before you leave from Darwin for Indonesia.The Rally is open to the following yachts, Mono hull yachts having a waterline length of not less than 7.3 meters and Multi hull yachts with a waterline length of not less than 8.0 meters.
All yachts that enter Indonesia must have an Indonesian Cruising Permit (CAIT) issued by the Indonesian Government of Sea Communications and we recommend that before you leave Darwin that you apply for a Social Visa for Indonesia.
Sail Indonesia 2013 will depart from Darwin on July 27 2013, the Entry Fee is a one off cost and includes your Indonesian CAIT which will be obtained for you by Sail Indonesia Organizers and given to you in Darwin as you clear Australian Customs before you leave, it also includes the complimentary Rally Barbeque at the Darwin Sailing Club for all crew members. the Presentation and Dinner on arrival in Indonesia as well as the entire three month Sail Indonesia program that follows as you cross Indonesia.