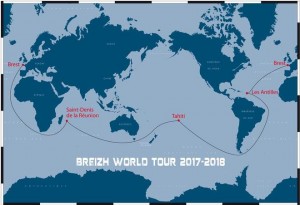 The Ocean50 class, which Michel Desjoyeaux had the idea of launching, has been pondering the first major event for the future Ocean50 monohulls for several months. Now, this project is taking shape thanks to the work done jointly between Michel Desjoyeaux's Mer Agitée company, the development team at Mer Forte led by Denis Juhel and the event organizers, Mer & Média. They are developing a highly original project for a new solo round the world race from Brittany to Brittany via the three capes with stopovers in various French overseas territories and departments.
Based on this idea proposed by Mer & Média and approved by the Ocean50 class, this new race around the world provisionally called the Breizh World Tour was presented to representatives at Brest Métropole Océane (the Brest metropolitan council), the Regional Authority in Brittany and the Finistère Council on 29th May in Brest.
The maiden edition of this new event, which is due to be raced every four years in between the other major French ocean races (Vendée Globe, Route du Rhum, Transat Jacques Vabre…) is due to start in the winter of 2017-2018, with a race lasting 5-6 months with four major legs.
Exclusively reserved for the Ocean50 monohulls, the race will allow skippers and their partners to make the most of a top class sporting event, which will guarantee excellent media coverage and a good retrurn on investment, while keeping budgets under control.
This new event aims to achieve the following goals:
- To express the diversity of everything that Brittany has to offer in terms of the sea, its businesses and technologies,
- To support the development of the Breton maritime sector with its various training schemes,
- To sustain the leadership of Brittany in ocean racing and the marine sector,
- To contribute to promoting and developing the economic success of Brittany,
-  To promote the French language and French maritime culture.
Michel Desjoyeaux's reaction: 'This new project for a round the world race corresponds to the aims of our class. An event that will be hugely popular with the general public and the media, which is open to all and is truly international. For the first time the skippers will be able to offer their sponsors the opportunity to become involved in a brand new race around the world offering good media coverage while keeping costs down.
Leg 1: Brest – Reunion Island, via the Cape of Good Hope Leg 2: Reunion Island – Tahiti, via Cape Leeuwin                   Leg 3: Tahiti – French West Indies, via Cape Horn                             Leg 4: French West Indies – Brest, final transatlantic race
The Ocean50 class, supported by the French Sailing Federation, opens up opportunities and creates new sporting, technical and economic possibilities.
This new class enables these new one-design Ocean50 boats to compete in a range of existing races, but also means they can look forward to the establishment of this new round the world race.

by Pierre Giboire